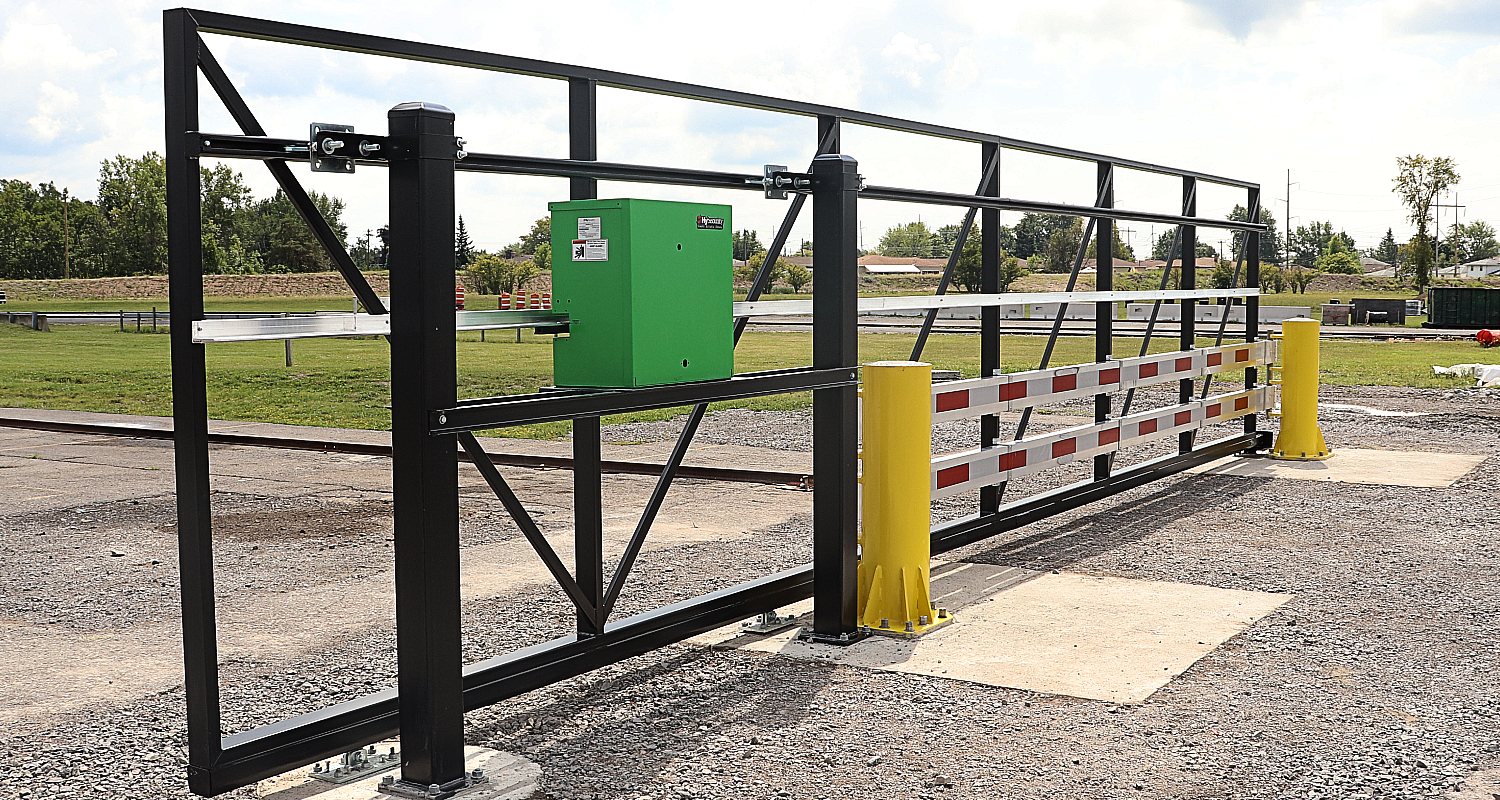 HySecurity Introduces the StrongSlide Crash-Rated Slide Gate at GSX 2022
Offering streamlined installation and unmatched durability, the StrongSlide M30 joins the robust lineup of Hostile Vehicle Mitigation gate solutions
CARLSBAD, CA, September 12, 2022 – GSX 2022 – Booth 2743 – HySecurity, a Nice company and global leader in perimeter protection solutions, today announced its crash-rated StrongSlide M30 Hostile Vehicle Mitigation (HVM) Gate. Unveiled at GSX 2022 in the HySecurity booth (#2743), the StrongSlide M30 is the brand's first crash-rated slide gate solution. Featuring certification from an independent, accredited lab, the StrongSlide M30 achieved an M30 P1 rating with a 24-foot clear opening, the widest in the industry. The HySecurity HVM line secures the world's critical infrastructure and key assets with crash-rated solutions for perimeter access points.
The StrongSlide M30 is an all-in-one steel frame, bottom track cantilever crash-rated gate plus operator and barrier solution offering superior gate mechanics, streamlined installation, and accessible servicing. The light-weight arrestor design keeps weight off the gate to reduce wear and improve both reliability and service life. A unified mounting template locates and aligns gate rollers, support posts, and arrestor catch bollards for more efficient installation. Incorporated into the design is the industry-leading SlideDriver™, which bolts onto an elevated platform custom developed to power the gate. The SlideDriver 50VF2/3 will also achieve Emergency Fast Operate (EFO), closing the gate in approximately 8 seconds if required.
"We are extremely proud to offer a slide gate with the longest clear opening in the industry. At 24 feet, the StrongSlide M30 offers installers and integrators the most flexible and secure slide gate solution on the market," said John Allen, Senior Product Manager of Gates & Barriers for Nice North America. "StrongSlide M30 is the perfect solution for those requiring a crash-rated slide gate for their perimeter, combining a hardened vehicle exclusion system with a personnel exclusion system into a single solution." StrongSlide joins the HySecurity HVM line alongside the StrongArm® M30 and M50, HydraWedge™, WedgeSmart™, and bollards to fulfill any perimeter security needs and give installers and integrators a one-stop shop for HVM solutions.
A pre-aligned installation template error-proofs and simplifies installation for lower overall cost while a bolt down design ensures proper alignment. The posts that capture the arrestor during an impact double as bollards to protect the gate, operator, and fence posts in day-to-day use. A unique stabilizer system uses roller element guides in the side-mounted track to improve performance in windy conditions and provide fall-over protection.
"The launch of the StrongSlide crash-rated gate is another step towards ensuring partners of Nice, including integrators and installers, have access to the broadest portfolio and the most innovative products," said Richard Pugnier, Vice President of Marketing and Education at Nice North America. "Our partners can feel confident when they select solutions from our expansive portfolio of brands that there is an established history of unmatched durability, security, and superior support in addition to decades of reliability to meet the unique needs of their customers."
The StrongSlide M30 features steel construction with a corrosion resistant powder coat finish or galvanized finish to provide long-lasting life and security.  A wide array of infill options are available for any architectural need. The hardware has a half-million cycle warranty. HySecurity offers project support from a dedicated team of Specification Sales Engineers to assist with project submittals and review existing specifications.
To learn more about the StrongSlide M30 and other HVM products, please visit HySecurity at GSX 2022, September 12-14, 2022 in Atlanta at booth #2743. For more information about HySecurity, please visit www.hysecurity.com
About HySecurity
HySecurity was founded in the 1960s with a mission to provide safe, reliable, and secure gate automation solutions. The company found early success with its industrial Hydraulic gate operators, including the industry leading SlideDriver™ model line. The company then expanded its portfolio to include traffic control and introduced StrongArm®, a multi-lane barrier arm that laid the foundation for the future evolution of the company. In 2011 HySecurity developed the StrongArm® M30/M50 crash-rated barrier with a patented dual-arm design that quickly became a leading Hostile Vehicle Mitigation (HVM) solution for perimeter security applications. The company has since continued to expand its portfolio of perimeter security offerings to become a global leader in the segment. HySecurity was acquired by Nice in 2016 and is the gate & barrier division of Nice North America, colloquially referred to as Nice | HySecurity.
About Nice North America
Nice North America designs and manufactures smart home and building automation solutions. Innovating since 1962, the company offers pro-install and DIY smart solutions in perimeter access, gates, barriers, access control, home security and automation, single-app intelligent control, sunshade solutions, whole home entertainment and video distribution for residential, commercial, and industrial environments. Complementing its Nice branded solutions, its family of brands includes 2GIG, Abode, ELAN Control Systems, FIBARO, Furman, Gefen, HySecurity, IntelliVision, Linear, Mighty Mule, Numera, Panamax, Proficient Audio and SpeakerCraft. The regional division of Nice is headquartered in Carlsbad, CA with regional R&D, manufacturing centers in Kent, WA and Quebec, Canada; and distribution centers in Phoenix, AZ; Olive Branch, MI; Chicago, IL; and Atlanta, GA. Professional integrators, dealers and distribution partners grow their business with award-winning CEU training and education, technical and field support, and sales and marketing programs with customized brand assets. The company is a proud national sponsor of the Gary Sinise Foundation R.I.S.E. Program, supporting wounded veterans and their loved ones. For further information, visit www.niceforyou.com/na
©2022, Nortek Security & Control LLC. All rights reserved. 2GIG, Linear, ELAN, Proficient and Numera are registered trademarks of Nortek Security & Control LLC. Other brand names and product names mentioned herein may be the trademarks, tradenames, service marks or registered trademarks of their respective owners.
Press Contact
Caster Communications
nice@castercomm.com
401-792-7080
Marketing Contact
Nice North America
Richard Pugnier
Vice President of Marketing and Education
760.517.1688
Richard.Pugnier@nortekcontrol.com
Products mentioned in this article.