We've all been there… the deadline for submitting the project documents is in two hours and you still have three days' worth of work to finish the project. To get it done on time, it might be tempting to do a quick internet search and copy and paste the spec you find. But beware, you may get a FrankenSpec (cue the scary music). A FrankenSpec is a specification with a combination of inaccurate and incomplete information.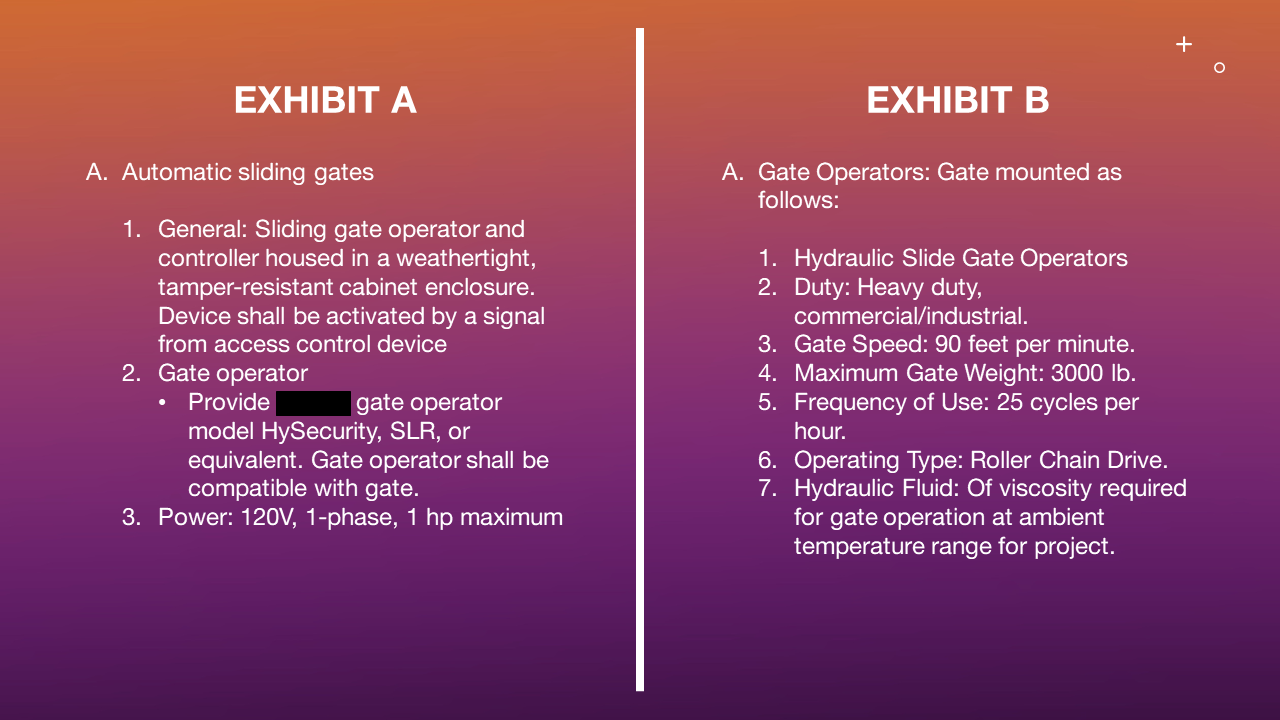 Can you spot the elements that make these FrankenSpecs?
Exhibit A - While they did call for a specific gate operator (some identifying notes blacked out to protect the innocent), the model lists another gate operator manufacturer and yet another manufacture's model.
Exhibit B – They called for a hydraulic slide gate operator; however, the operating type is not going to be a roller chain drive. At this point, we try to contact the specifier but as the project is now out to bid and getting the spec changed is difficult, we are usually just told to bid it as best we can and offer alternate products. When the bids are submitted, most contractors will have a base bid for the lowest priced chain driven operator that is not hydraulic. They may offer the hydraulic gate operator with a drive rail but will lose out to the price conscious GC/owner who doesn't really understand all the advantages that come with a hydraulic gate operator vs. the chain driven electro-mechanical. Advantages of hydraulic gate operators include tighter security, will operate in colder conditions, much faster speeds, lower maintenance costs and higher return on investment after installation. Read more about Hydraulics vs. Electromechanical.
Working with your HySecurity specification sales engineer early in the design stage will help reduce RFIs and make sure your customer is getting accurate submittals. We're ready to help you select the correct sized & capacity operator for your project, provide product details, and assist with layout & sequencing for the entire access control point. We are also happy to offer the spec format that best suits your needs, be it a sole spec, basis of design or performance based. Contact us whenever your project requires vehicle gate automation.
Product mentioned in this article.