Consider that tens, if not hundreds of authorized staff, guards and maintenance personnel must work in close quarters to, or transit through, your Access Control Point. Safety is the highest priority in Access Control Point design and requires a working knowledge of UL 325 & ASTM F2200. With these safety standards in mind, you can start designing the three zones of your automated vehicular access system: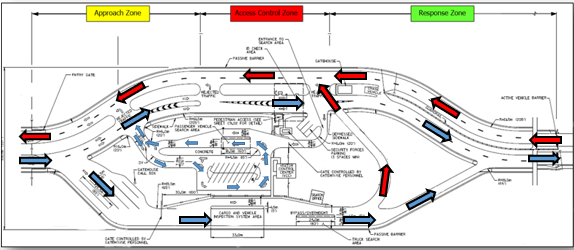 The Approach Zone limits incoming vehicle speed to minimize the possibility that a fast approaching vehicle could penetrate the Hostile Vehicle Mitigation (HVM) barriers. Slowing traffic allows guards and security monitoring personnel time to respond. Design considerations include:
Limiting long straights
Adding sharp curves – 90° turns from public roadways reduce approach speed
Using jersey barriers or bollards to serpentine the roadway and chicanes or speed bumps to slow oncoming traffic
Installing over speed detection equipment to communicate a possible threat
The Access Control Zone is where vehicle and personnel validation occur. Design will be guided by these questions:
What type of gate or barrier system will be used? The proper gate will depend on the security level, site conditions, vehicle throughput, visual impact and safety standards required by the site. Options include: slide, swing, barrier arm, vertical lift or a combination such as a security slide gate integrated with a barrier arm for traffic control.
How will identification occur? Options include: card readers, key FOB, key pad, RFID, guard.
Will there be a Sally port?
Do vehicles need to be searched or inspected?
Are there appropriate turnarounds for vehicles denied access?
The Response Zone is the last chance to deter an unauthorized entry. The use of a final Denial Barrier is the gold standard here. Design considerations:
Will the barrier be cycled for every vehicle or remain open and only deployed under threat conditions (i.e. Final Denial)?
Will this be an above ground or below ground system? Wedge barriers and Active Bollards are below ground an offer faster response time. Barrier arms are a bit slower but offer above ground simplicity, ease of maintenance and in most cases will cycle for every vehicle.
Will there be a security gate integrated with the (HVM) crash barrier? This could be a swing or slide gate.
Ultimately, designing the best access control point design for your project requires extensive industry knowledge and site analysis. If you find yourself knee deep in the design stage and don't know where to turn, our dedicated team of Specification Sales Engineers is here to help with complimentary and personalized support.
Earn your HSW credits!
Schedule an AIA CES approved lunch and learn with a specification engineer today.