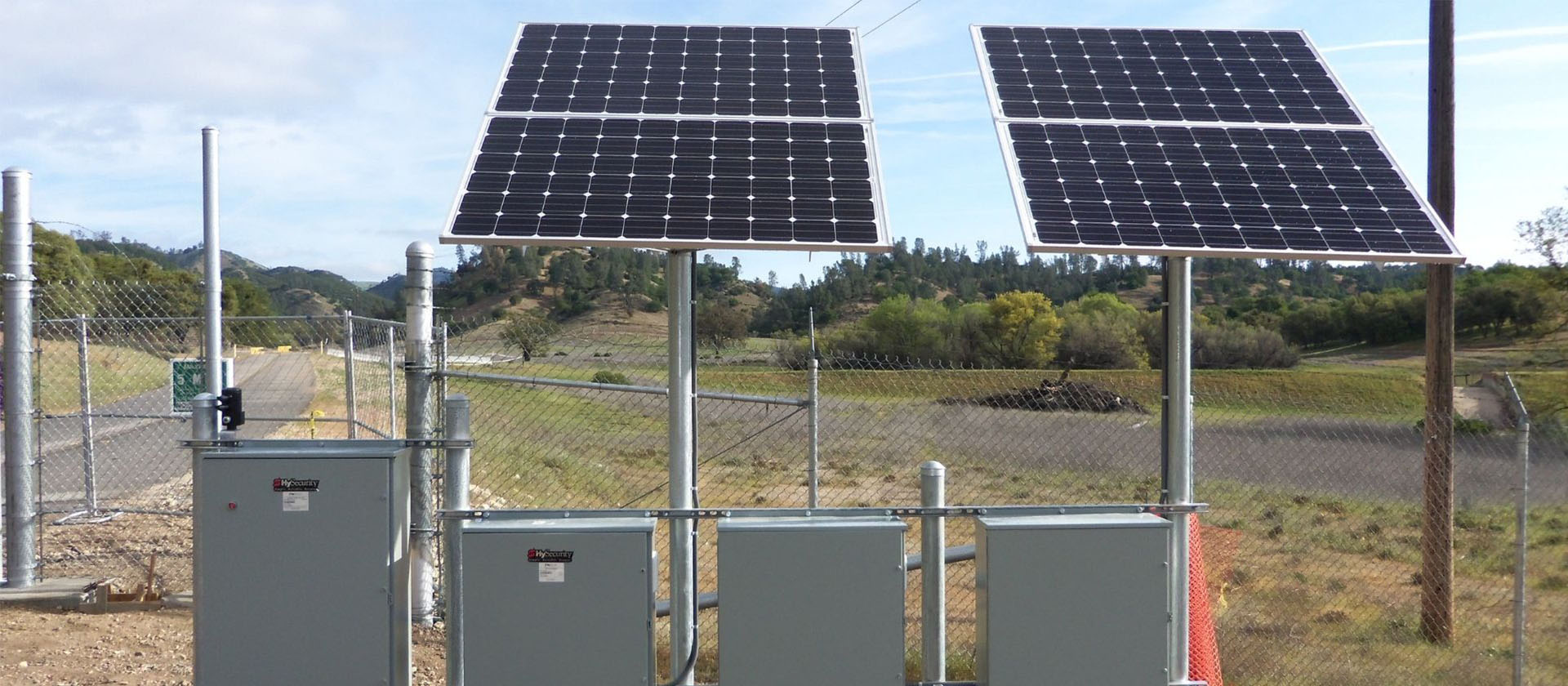 Perimeter Security News
August 2021
Shining Light on Solar Powered Gate Operators
Many developments have been made in engineering electronics over recent years.
With low power consumption devices, long lasting batteries, and efficient solar arrays we find that solar power is a good solution across many industries and types of equipment. Gate operators are amongst the common types of products where solar is a great option for all types of climates. And solar power is a great solution when it's too costly to trench a power line to the gate due to the distance the gate is from the nearest power source. Gates are often on the perimeter of a project away from buildings, making it difficult for some sites to access power at the gate.
There are some things you must consider when designing and specifying a solar powered gate operator system for your client. The first is the type of gate operator that will be used to automate your client's gate. You will find that there are slide gate, swing gate, and barrier arm operators on the market that are manufactured for solar power. Each operator will have a different amount of current draw. This will play heavily on how many solar arrays the gate will need and the number and size of batteries we will want to plan for. Your client's solar powered gate system will be comprised of components sourced from different manufacturers. You will not find an off-the-shelf system that includes everything that will be needed so it is important that you plan and select the appropriate gate operator for the job.
Next, we should consider where in the country the project job site is located. Each region of the country has differing amounts of maximum daily sunlight. The amount of sun hours your site will receive will factor greatly into determining the number of solar arrays you will need and the amount of battery storage that will be required. You can find a solar sun hours map through most reputable solar equipment suppliers which will help you find the number of sun hours a particular site will expect.
The number of cycles the client will expect during high traffic times and low traffic times will also be a factor that will influence the size of the array and batteries. It is important to consider how many days there may be without sun as well. Clients are known to give low estimates of how often the gate will be used so it's OK to double or triple that expected number. Having a solar system built larger than what will be needed is better than building one that will go dead during peak traffic times.
Lastly, we must determine the devices that will also draw power from the gate operator and solar system such as access control devices, loop detectors and safety devices. You will find there is a wide range in power draw between different manufactures and models of the same type of device so it will be important for you to select either a low power draw device or one specifically designed for a solar system. Devices designed to be used on a solar powered system will typically power down when idle and power back on when needed while also using a very low amount of current.
HySecurity has a full line of Slide, Swing and Barrier Arm gate operators that are engineered for solar powered systems. Contact our Specification Sales Team with any questions you have, and they will walk you through the calculations to determine the size and number of batteries and solar arrays your project will need.
Earn your HSW credits!
Schedule an AIA CES approved lunch and learn with a specification engineer today.
Products mentioned in this article.