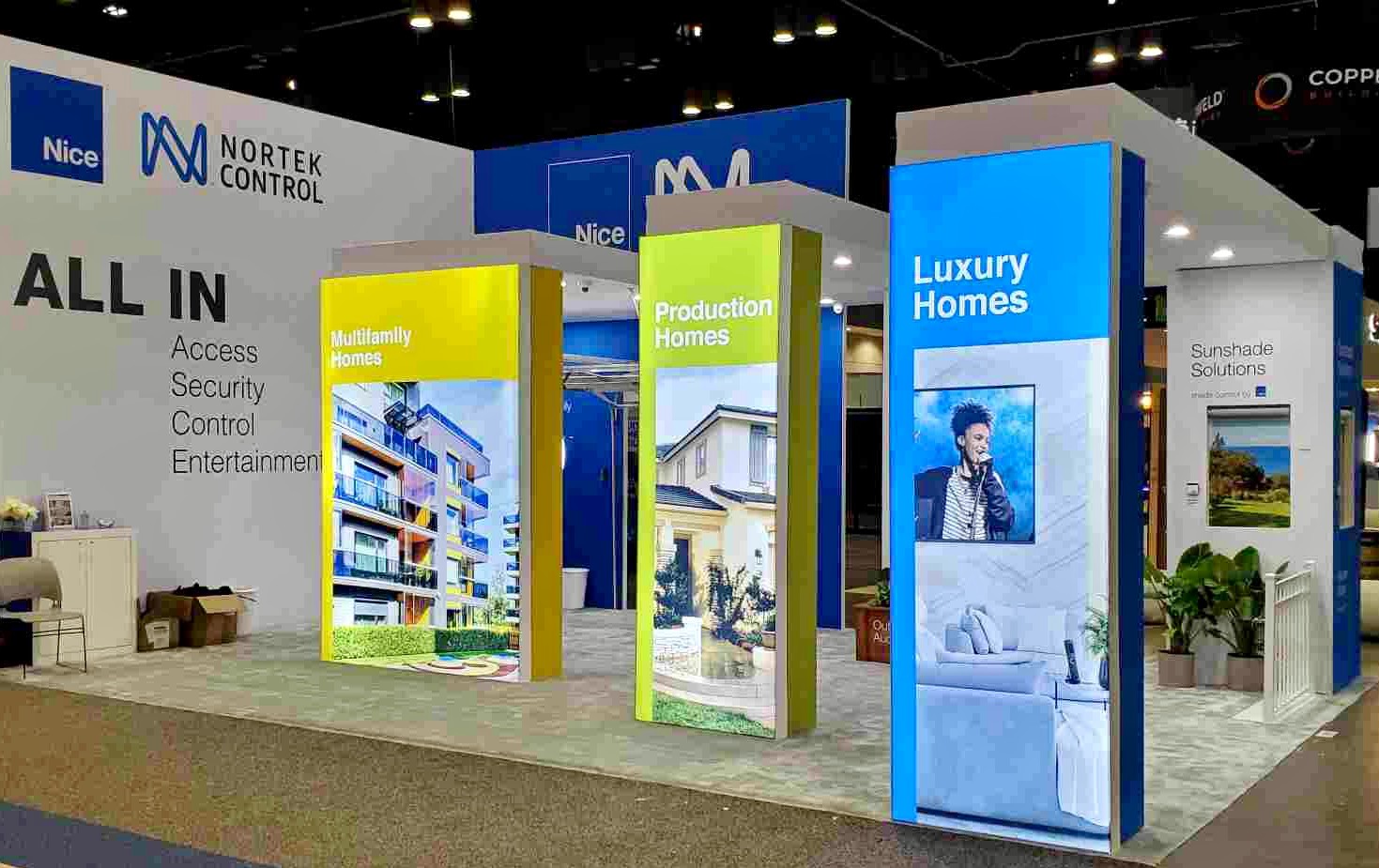 Trade Shows
February 14, 2022
Stronger Together, Nice | Nortek Control Goes 'All In' with Smart Home Solutions at NAHB International Builders Show 2022
Nice | Nortek Control leveraged their combined resources to present an expanded portfolio of Access, Security, Control, and Entertainment solutions to builders and industry professionals at IBS 2022
Nice | Nortek Control exhibited at the NAHB International Builders' Show 2022 in Orlando, Florida this past week with a showcase of smart home products across several brands, proving once more they're Stronger Together and demonstrating a commitment to go 'All In' as a provider of smart home solutions for builders.
During the three-day exhibition from Feb. 8 to 10 at the Orange County Convention Center, Nice | Nortek Control leveraged their combined resources to present an expanded portfolio of Access, Security, Control, and Entertainment solutions to builders and industry professionals at the event.
The event is the first time Nice | Nortek Control exhibited under a joint booth after Nice acquired the company in October 2021. To emphasize its stronger and more formidable position as a provider of smart home solutions to builders, the company unveiled its Builder Services Program, a portfolio of program standards, plus sales and marketing tools that enable builders to take advantage of a wide variety of solutions from Nice | Nortek Control.
The portfolio extends across access, security, control, and entertainment, regardless of project type, whether it's multi-family, production, and luxury homes or commercial projects.
Among the solutions showcased in the booth were 2GIG smart home security and automation products such as the 2GIG EDGE Security and Automation Panel and array of sensors, the Smart Camera and Video Doorbell from Alarm.com, and 2GIG Z-Wave Devices and Accessories.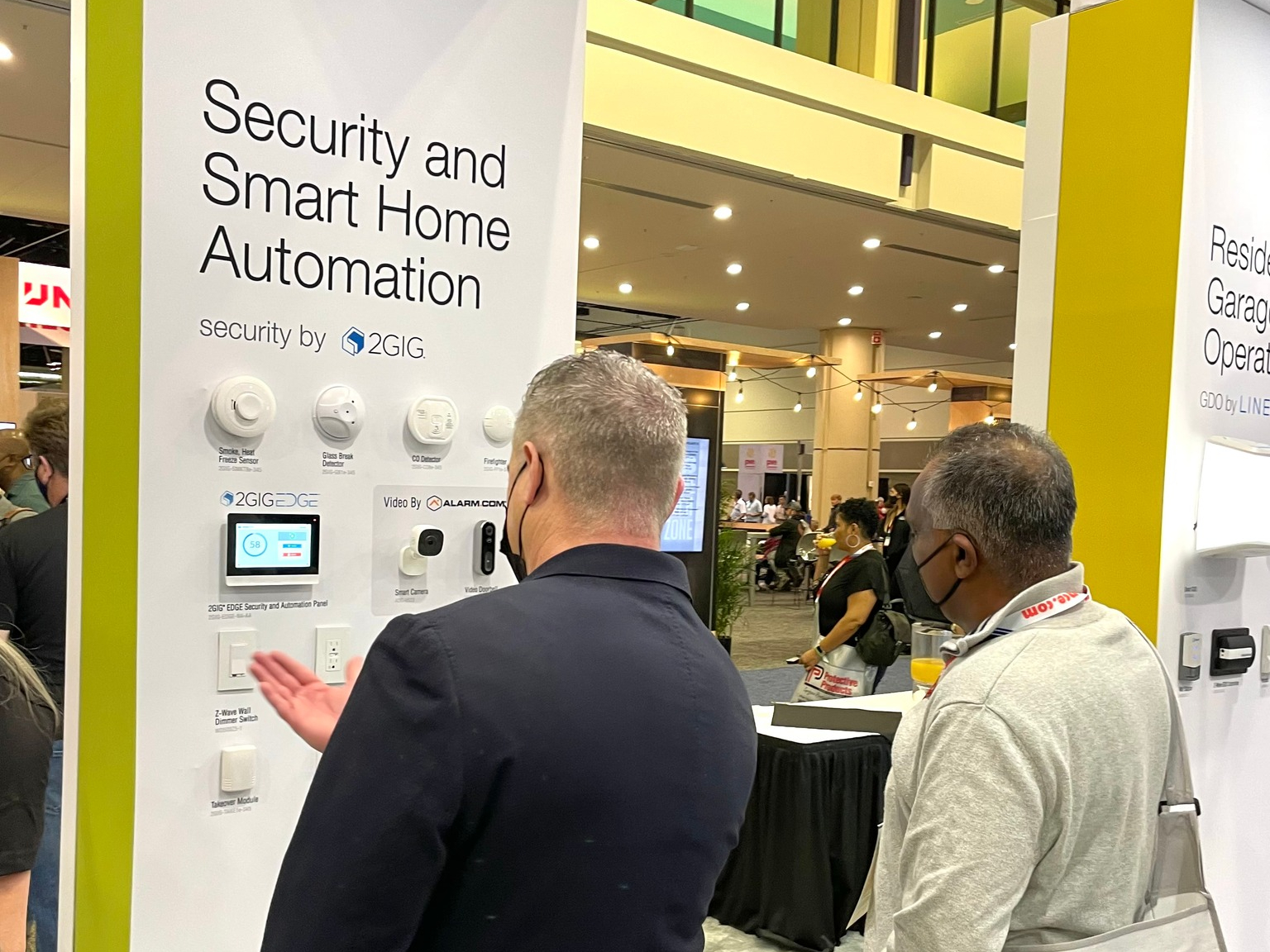 Linear access control and garage door operator offerings combined with Nice commercial door operator products were also part of the program solutions highlighted in the booth.
Proficient Audio and SpeakerCraft, the chief audio entertainment brands under Nortek Control, presented their respective in-wall, outdoor, rock, and planter speakers that highlight excellent sound performance blending seamlessly with the environment's aesthetic.
Also showcased at the booth were ELAN control systems integration with the 2GIG EDGE panel, Moen Flo and Phyn water leak detection, TED energy-efficiency monitoring, and Broan/Nutone Overture indoor air quality control. These innovations further expand Nice | Nortek Controls offerings that enable builders to create safer, healthier homes for their clients.
A key contribution from Nice was the launch of its latest product, the Nice Era Inn Edge S Li-ion, a battery-powered tubular motor that enables builders to install smart sunshade solutions to their projects without the need to spend on in-wall wiring and hiring an electrician to install it.
The tubular motor, which can be used for automatic awnings and window blinds, can be controlled using a Nice remote control or through a smartphone application, enabling users to operate it seamlessly and synchronously. This feature also opens possibilities for integration with other smart home automation products, which Nice is also known for.
Nice also highlighted its Titan linear actuator and the newly launched Mercury 310 controller. The latter offers simple UL 325 compliance through advanced, onboard safety requirements that negate the need for external photo eyes, although external sensors are always recommended for additional safety. Stemming from the acquisition of Nortek Control, the Titan and Mercury 310 have recently been integrated with the ELAN control system to offer users the added benefit of controlling their gate from their smart home system.
To further underscore its commitment to going "All In", Nice | Nortek Control virtually held the inaugural Nice | Nortek Control Builder Awards at IBS on Feb. 10. Over 20 recipients were given the initial recognition.
The show of force from Nice | Nortek Control at the NAHB International Builders Show 2022 further advances the industry-leading position of Nice among its smart home security and automation competitors and puts the combined firepower of the group in an even more favorable standing.