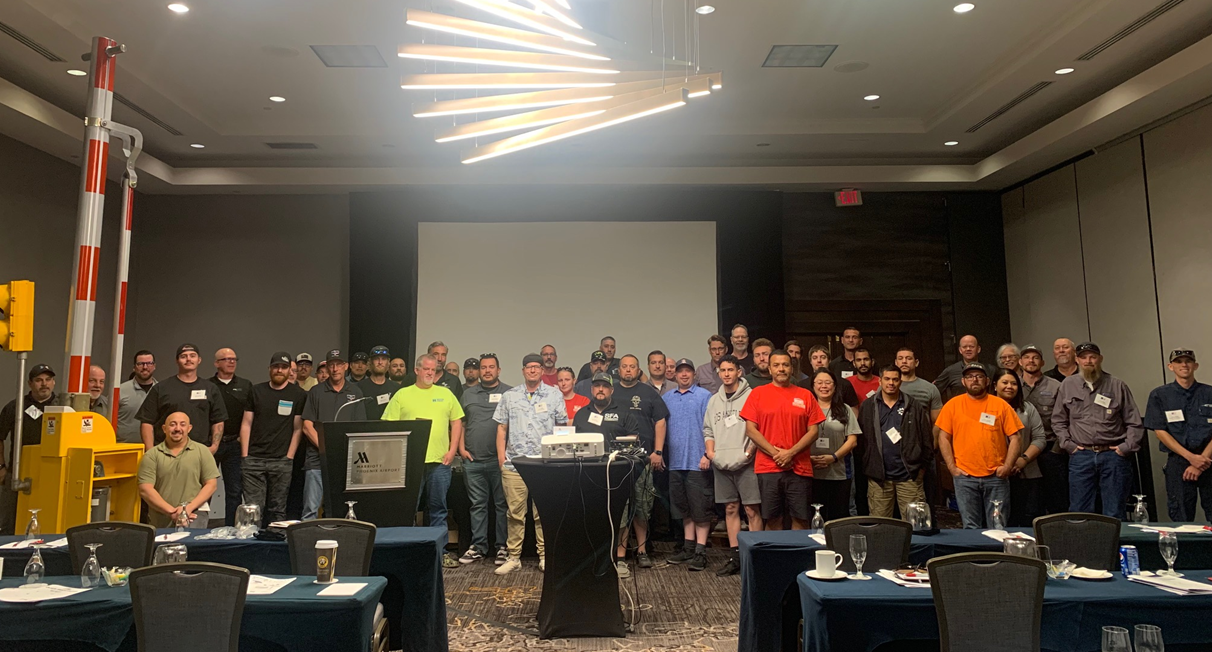 Last month, Nice | HySecurity celebrated a milestone as it held its first in-person Regional Product Seminar (RPS) in two years! Attended by interested distributors, installers, and specifiers, this year's Regional Product Seminar was held at the Marriott Phoenix Airport from April 26 to 29.
The three-day seminar — with an optional fourth day — gave attendees a comprehensive background on Nice and HySecurity product lines, from linear actuators and control boards to gate operators and Hostile Vehicle Mitigation (HVM) products.
Hosted by regional sales manager Rob Kerben, the Regional Product Seminar was graced by industry professionals from Nice and HySecurity who provided attendees with an overview and training on how to install and operate Nice | HySecurity products.
"Our Regional Product Seminars are a training opportunity for our customers. It's a three-day technical training which covers the basic aspects of gate automation and operator installation, emphasis is on our gate operators and technology. We also review UL325 and ASTMF2200 safety requirements. Unfortunately, we've had to postpone this event several times over the past few years due to COVID-19 restrictions and health concerns for our staff and attending customers," Kerben explained.
The first three days
On the first day of the RPS, Daniel Butler and Frank Pooley presented an overview of the Nice | HySecurity family of residential, commercial, industrial and HVM gate operators. The remainder of the first day of the seminar focused on the Nice product and installation training for the Apollo 816 and Titan 912L linear actuator, the1050 and Mercury 310 control boards, the MBAR/LBAR traffic control barrier arms, and the Vanguard 3501 residential swing gate operator. In addition, the new HySecurity SmartCNX™ based swing and slide gate operators were also covered on the first day.
Leading the tech training was sales engineer and tech training manager Daniel Butler who gave an overview on the features and functions of the new SmartCNX™ swing and slide gate operators and was joined by Product specialist Frank Pooley to talk about installation tips. Frank also covered about the Apollo and TITAN linear actuators with the 1050 and Mercury 310 control boards.
Meanwhile, senior electrical engineer Brian Knerr demonstrated the new SmartCNX control boards, highlighting the new features and functions, and how to easily access and setup different configurations using the menu settings. Attendees were provided hands-on interaction with the SmartCNX trainers, connecting gate edge sensors and using the new iOS/Android Installer app.
On the second day, the seminar focused on the overview and installation training for HySecurity hydraulic and SlideSmart™ DC 24V electromechanical gate operators including the Smart Touch Controller (STC). Butler led the second and third day with a talk on hydraulics and the hydraulic pump pack, SlideDriver™ basics, and the common parts and functions design for HySecurity gate operators. Knerr instructed on the Smart Touch Controller (STC), the main circuit board in the hydraulic line of gate operators. Attendees had hands-on training with the STC trainers, allowing them to navigate through and enable/disable various menu settings, showing the power and flexibility of the STC.
Inside sales and tech training specialist Mike Anderson presented the SlideDriver™ installation and gate safety sessions in compliance with UL325 and ASTM F2200 standards on the third day of training. Senior product manager John Allen lectured on the Hy5B™ Vehicle Loop Detectors and Design and talked about the topic "What's Next from HySecurity," which covered products such as the upcoming SlideDriver™ II with the SmartCNX™ control board and new limit sensors. John also showed and discussed the upcoming sliding crash gate.
In addition, there was a session on the basics of Ethernet network connectivity and configuring the HyNet™ Gateway, the Ethernet switch connecting a gate operator to a local area network.
To demonstrate the ease of connecting two operators as a dual gate system, Brian Knerr had class volunteers help connect and configure a SwingSmart™ CNX and SlideSmart™ CNX as a bi-parting pair which were then sequenced with a StrongArm M30.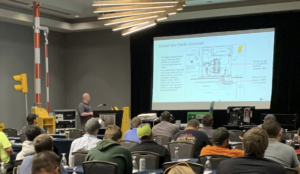 An optional fourth day
Day Four of the seminar was specifically for professionals who want to be authorized to install HySecurity HVM products, particularly the StrongArm® M30/M50 anti-ram crash barrier and the HydraWedge™ SM50 wedge barrier. The session enabled attendees to learn foundation layout and setup, upper and lower arm installation, setting product limits, and other installation tips.
Crash specialist Brian Haproff began day four with an overview of the HVM family of gate and barrier arm operators and provided detailed product and installation training on the StrongArm® M30. Following the presentation Brian had the class attendees install the upper and lower arms, manually open/close the arms, and set the limits. Both Mike Anderson and Frank Pooley presented and demonstrated the StrongArm® M30 foundation layout.
"We're very excited to return to in-person training and having the interaction/feedback from the attendees. Originally, we were having Crash Authorization Training (CAT) events at our distributors but as our distributor base grew, we considered the scalability of the CAT program. As a result, we decided to offer regional training events at a hotel that was distributor agnostic, and we invited all our distributors in that Region to participate by hosting lunches which gave them an opportunity to speak/present about what they offered for their dealer/installers," said Butler, who added that while virtual training has benefits regarding health and safety during a pandemic, there are some limitations to the quality of training, especially hands-on.
A great learning opportunity
The Regional Product Seminar presents an opportunity for industry professionals who are in the process of acquiring continuing education units (CEUs). Seminar attendees who are accredited with the Institute of Door Dealer Education and Accreditation (IDEA) as Certified Automated Gate Operator Installers (CAGOI) or Certified Automated Gate System Designers (CAGSD) are eligible to receive one CEU for each hour of class attendance. Attending the three-day session, for example, entitles an attendee to receive a total of 24 CEUs (8 hours x 3 days = 24 hours = 24 CEUs).
With such a lineup of well-experienced industry experts, attendees were ensured that they learned only from the best and will be bringing over new knowledge and skills from authorities in the industry.
The highly successful seminar was supported by the distribution channel partners who sponsored lunches at the event, namely, Electronic Entry Distributors (represented by Ken Lehmann), Gates and Controls (represented by Bret Beeding), Southwest Automated Security (represented by Ken Johnson) and Controlled Products Systems Group (represented by Brad Hancock). BD Loops, represented by Brian Dickson, also provided a box of literature, giveaways, and a Megohmmeter as a door prize.
"Our primary route to market is through Distribution and these partners play a pivotal role in the sales and support of our products. Having them at and participate with the RPS allows for a unified front as well as an opportunity for them to receive training on our products so it's a win-win scenario," Kerben explained.
Nice | HySecurity is looking forward to holding another Regional Product Seminar in Atlanta, GA around September-October 2022.
To be in the know about upcoming Nice | HySecurity events, visit https://hysecurity.com/about/events/.
Products mentioned in this article.