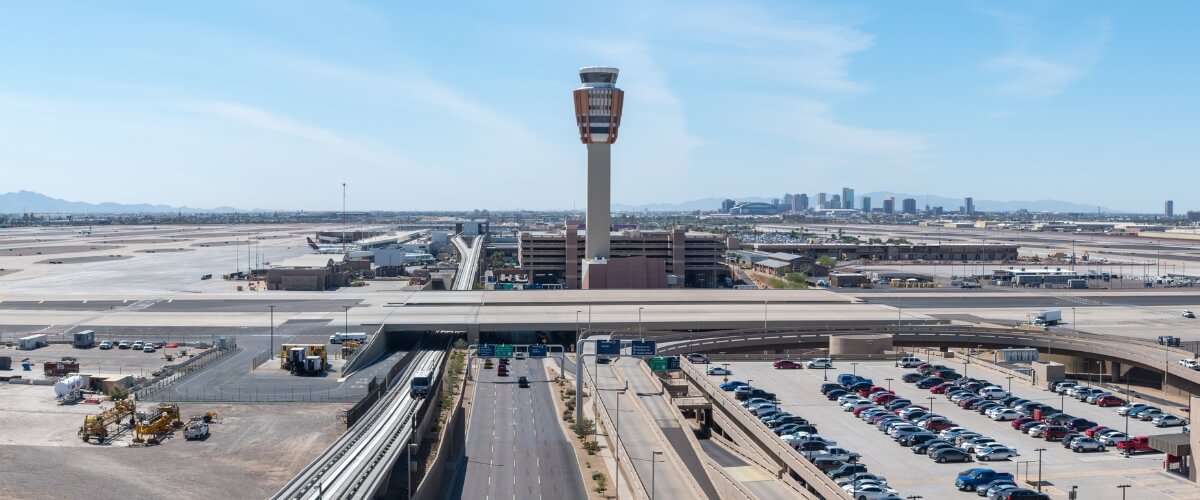 Case Studies
June 26, 2023
Balancing site security and operations in one of America's busiest airports
HySecurity and Phoenix Fence partnered to provide a highly reliable perimeter security solution to America's Friendliest Airport.
As one of the busiest airports in the United States, an Arizona international airport faces the immense challenge of balancing continuous operation and site security, in keeping with its moniker "America's Friendliest Airport."
The airport is so busy that on February 13, 2023, it marked a milestone of over 200,000 daily passenger volume, according to a recent press release from the airport management. The Federal Aviation Administration also noted that in 2022 alone, the airport had a total passenger volume of over 44 million, an average daily passenger volume of over 120,000, managed over 418,000 aircrafts, and handled over 420,000 tons of cargo.
For several years, the airport relied on a hostile vehicle mitigation (HVM) solution and an access control system to manage the flow of vehicular traffic into its terminals, as well as ensure the security of passengers, airport staff, and airline personnel.
Over time, environmental factors such as extreme temperatures, sand, and dirt caused wear and tear on the existing perimeter security solution, making it unreliable and expensive with frequent maintenance.
Seeking to reduce costs, the airport called on its maintenance partner, Phoenix Fence, a top fencing and gate automation company in Arizona, to help them find a new perimeter security solution to replace the underperforming one. The requirements provided to Phoenix Fence outlined a few key considerations in choosing a new solution:
Considering its average daily passenger volume of over 120,000, the perimeter security solution needed to safely enable authorized employees to come and go while simultaneously preventing unauthorized vehicles from entering the property.
Key assets such as fuel and electrical lines run underground to service aircraft, so perimeter security equipment must be installed without digging too deep into the ground and possibly damaging an asset.
Eliminate underground hydraulic lines and reduce installation cost.
The new solution required mitigation of environmental factors such as extreme temperatures, windblown sand, and debris. The solution should also reduce or eliminate continued cleaning and maintenance to avoid operational failure.
Having extensive knowledge of solution providers in the perimeter security industry, Phoenix Fence approached Nice | HySecurity to provide a highly reliable vehicle access control solution. Since the 1960s, HySecurity has been manufacturing perimeter security products that are proven to be ultra-reliable after installation and can operate at full capacity with minimal maintenance — for decades.
Wanting to ensure the airport's security while preventing the flaws evident in the airport's current solution, the HySecurity team consulted with an aviation supervisor. In a joint presentation, Phoenix Fence and HySecurity teams pitched a comprehensive solution, highlighting its safety requirements, product comparisons with installation site references, and a proposed installation plan with loop layouts and foundation requirements.
The presentation convinced the airport management that the HySecurity solution would be the perfect fit for the airport's requirements. The airport installed a total of 28 StrongArm® M50 gate operators to secure the entire perimeter.
The StrongArm® M50 was chosen because it exceeded requirements set forth by the client:
An ASTM F2656-07 M50 rating to reliably secure active runways from breaches in the perimeter.
Uncompromising safety features such as high visibility lights, stop-and-go traffic signal, and unique dual-arm design provide superior passenger protection in case of accidental strike.
An above-ground design with no underground hydraulics, minimal maintenance requirements that consistently performs in variable conditions such as extreme temperature ranges, sand or dirt in the environment, and power outages.
A full 90-degree open with quick arm speed enables convenient access to even the largest of supply vehicles.
Despite the unique challenges presented by the site and the requirements outlined by the airport management, the Phoenix Fence and HySecurity teams were able to deliver what the client needed.
Remarking on the project completion, Paul Mastin of Phoenix Fence said, "This was the cleanest project of this size we've ever been a part of [and] the maintenance is a night and day difference."
Today, the airport hasn't had any serious or life-threatening security breaches that halted daily operation. It has generated over $100 million in revenue annually without the concern or cost of frequent perimeter security maintenance. The airport is a testament that with the right perimeter security solution, you can balance site security and operations even in the busiest of airports.
HySecurity provides complimentary, personalized Specification Support through our dedicated Specification Sales Engineers. Contact our team at 800-321-9947.
Product mentioned in this article.